Introduction
The company's previous solution was to show drilling parameters across four displays on the drilling chair. However, the PCs were located in the system control room, which was located about 100 meters away. The PCs in the control room were connected with the displays on the drilling chair via VGA cables, but this resulted in the signal transmission often suffering interference. The reliability and security of the data did not meet the standard required by the company. Furthermore, the performance of the PC and the panel of the previous solution were not designed to meet the needs of digital oilfields, which is a trend that the company is keen to embrace.
To build a drilling system ready for the next generation of devices that will facilitate digital oilfields, the company wants to implement a compact, cost-effective solution that streamlines integration and enhances system performance.
System Requirements
Panel computers that can replace existing PCs and displays
High processor performance and more touch responsive panel computers
PROFINET-to-Ethernet gateways to connect PLCs and computers for seamless data transmission and easy integration
Class 1 Division 2 ATEX and IECEx certifications, as well as wide operating temperature range
Moxa Solution
For many years, Moxa has cooperated with oil & gas service companies throughout the world to deliver innovative solutions. Our complete product portfolio ensures that regardless of the harshness of the oil & gas environment, Moxa will have products that can work reliably in these conditions. To increase the efficiency of their current solution and reduce the total cost of ownership, the company replaced their two existing PCs and two displays with two of Moxa's MPC-2197Z touch panel computers, and replaced the rest of their displays with Moxa's MD-219Z displays. Instead of connecting the PCs and displays via VGA cables, the company installed the panel computers on the drilling chair to make it easier for the operator to perform drilling. One of the pain points for the operator when using the previous system was that the metallic frame on the existing displays made it very difficult to touch the screen around the metallic frame where the 'close' button is located. Moxa's MPC-2197Z flat panel computers feature an Intel 3rd generation processor, as well as fast, sensitive multi-touch capabilities that avoid any interoperability issues and enhance operational efficiency.
In order for the customer to seamlessly migrate to the new drilling chair, the second challenge that needs to be addressed is protocol conversion. The most prevalently used PLC protocol at oil & gas field sites is PROFIBUS, which is unable to directly connect to the panel computer. Therefore, Moxa's MGate 5101 Ethernet gateways play a key role to simplify this transition. To increase visibility, Moxa's EDS-508A Ethernet switches are deployed to facilitate data being transmitted smoothly into the rig control system.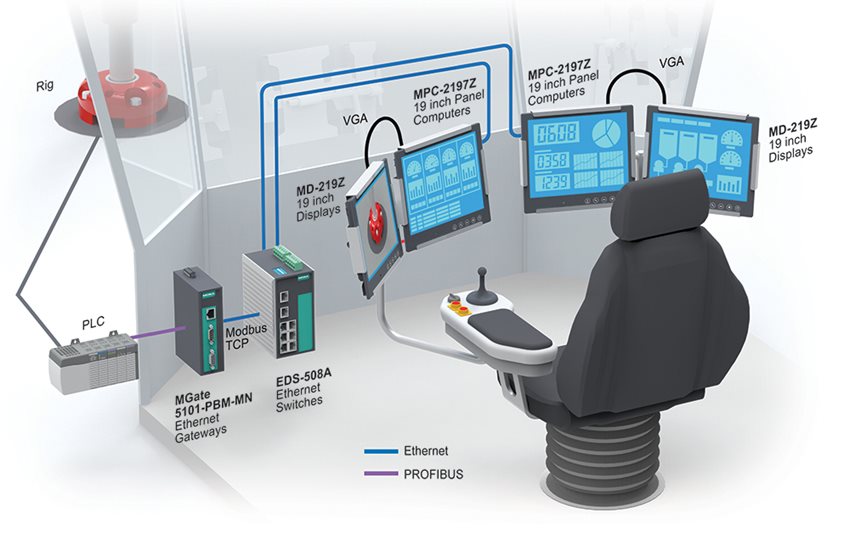 After an integrated, networked system has been implemented, this solution successfully increases the operational efficiency of the modern drilling chair in a cost-effective manner.
Why Moxa
Specialized solutions for oil & gas applications
Lower total cost of ownership
A complete product portfolio, including products with C1D2 / ATEX Zone 2 certifications